PosiChargeTM revolutionized fast charging,
let us do the same for your operations!
Built with state-of-the-art data-driven technology, PosiCharge industrial smart charging system boosts performance and safety while reducing operating costs. If you're building a new facility, converting to electric vehicles, or want to know how PosiCharge can improve your already existing electric operations, contact us today! Whether you're running a handful of forklifts or an entire fleet, our team of experts will ensure that you get the best charging solution for your unique operation.
Are you LOOKING to switch to electric fleet?

Are you GETTING THE MOST OUT OF YOUR electric fleet?
our CHARGING PRODUCTS & solutions
forklifts & material handling EQUIPMENT

PosiCharge™ offers the highest performing, safest electric forklift battery charging solutions for both light and heavy MHE operations, with both single and multiple shifts, for round-the-clock performance for the hardest-working forklifts in your fleet.

Airport Ground Support Equipment

PosiCharge™ outdoor ground support fast chargers are durable and well suited for light or heavy duty airport GSE applications. Flexible installation options minimize infrastructure & installation costs. Our intelligent technology makes charging safe and worry-free, and keep your fleet operational 24/7.

BATTERY Management Tools & SERVICES

PosiNet™ Systems and Battery Rx™are software tools designed to manage your fleet's batteries effectively, minimize downtime, provide valuable insights and optimize vehicle battery charging within and across facilities.

CABLE & BATTERY ACCESSORIES

Our unique cable and battery management accessories give you the ability to take your charger's performance and safety to the next level, with the confidence that comes with the PosiCharge reputation. Existing clients can easily order spare parts via our online store.
Take control of your operations with the safest, most advanced industrial smart charger available.
ADVANCED CONNECT RXTM

advanced protection for cables and connectors.

BATTERY PROTECTION TECHNOLOGY

advanced algorithms monitor, manage, protect battery & extend its life

MOBILE ACCESS & CONTROL

industry's first charger to enable configuration & management via mobile app

TESTED & CERTIFIED

to highest industry product safety standards
A smart charger that handles the batteries of today, and the technology of tomorrow.
HI-FREQ MODULAR POWERSTAGES

for high efficiency and easy upgrade, redundancy & repair

BATTERY UNIVERSAL

able to identify and custom charge any material handling battery

FUTURE PROOF

able to charge AGVs, robots, and new battery chemistries such as lithium

HIGHEST EFFICIENCY

industrial charger with lowest monthly utility cost
What Our Customers Say
A world of difference in productivity. Big savings that others just do not see. Employee morale has been key! They are no longer frustrated with the unproductive time and the safety concerns involved with having to change a battery in the middle of trying to get something done. A great tool - every SYSCO operating company should get a PosiCharge fast charge system.

Roy Willard VPO Raleigh, SYSCO

Based on past performance...the PosiCharge systems will be the UA standard.

Andrew Alexander Manager of GSE / Facilities Planning United Airlines

The system is allowing our operation to be more efficient, more productive and run 24/7. Love the system. Service has stepped up to retrain our staff with turnover.

Robert Garcia Director of Facilities, FreshPoint A1A
Empowering businesses
with innovative solutions.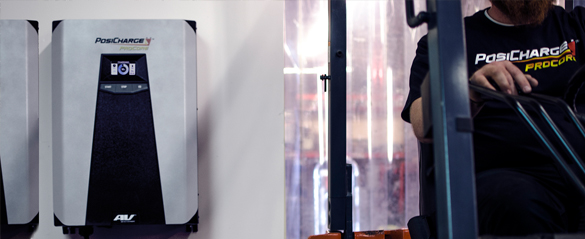 Battery Experts, Innovation Specialists
PosiChargeTM a technology company based in Southern California. We design, develop, produce, and support an advanced portfolio of industrial smart charging systems, battery management tools and accessories. Our scientists and engineers look for answers to the questions of tomorrow. Our industrial charging solutions have become the intelligent choice for electric vehicle manufacturers, fleet managers and drivers, paving the way for a cleaner, more sustainable world.
Why Go Electric?
COMMON MISCONCEPTIONS ABOUT ELECTRIC FLEETS
01

Electric trucks are too expensive.

FACT

Electric lift trucks cost less to own over their lifetimes than comparable ICE lift trucks. Lower operating costs, reduced maintenance and improved safety make electric lift trucks a better investment.

02

Electric fleets require space-wasting battery changing rooms.

FACT

PosiCharge fast chargers eliminate the need for battery-change rooms. Batteries are charged during scheduled breaks and shift changes without ever leaving the vehicle.

03

Electric trucks aren't as powerful.

FACT

Modern electric forklifts perform side-by-side with their ICE counterparts, while being safer and less expensive to operate under most circumstances.

04

Fast charging harms batteries.

FACT

With our unique algorithms, battery monitoring, and heat management technology our PosiCharge fast chargers can actually extend the life of your batteries by almost 40%, and reduce your battery inventory by 50%.
In fact, studies show that the vast majority of forklift drivers prefer Electric Trucks to their traditional IC counterparts. Most drivers choose the cleanliness and simplicity of plug-in charging over the hazardous fuel handling, fumes and loud noise IC trucks are associated with.